Rehabilitation comes in many forms, and each one is as unique as the resident served. We have helped those recovering from accidents or injuries, and we also provide hip physical therapy for those who have had a joint replacement.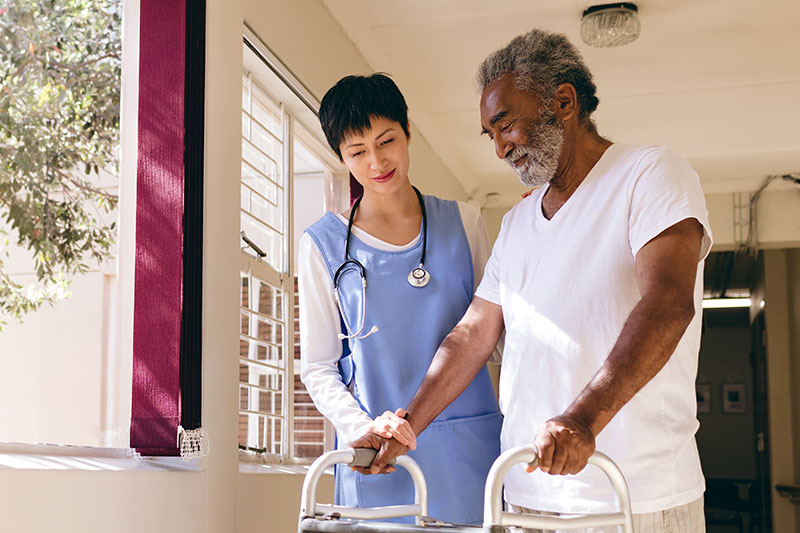 Recovery often involves taking things one step at a time, and with our fabulous team of rehabilitation specialists supporting you or your loved one, you'll dramatically improve function, balance and daily activities. 
There are three main types of therapy offered at Brunswick Cove: physical therapy, occupational therapy and speech therapy.
We're proud of our experienced, professional therapists who work closely with our residents, help them establish long-term goals and assist them in reaching those goals. 
Physical Therapy
This is the type of therapy most people think of when they hear the word "rehabilitation." While physical therapists concentrate on restoring the body's motion, there are many other aspects to this service. Physical therapists may also:
Help residents learn to walk again 

Assist with hip physical therapy

Provide assistance after a joint replacement

Fit residents for splints or braces

Assist residents in finding the right wheelchair

Provide help on how to use a walker

Help restore balance
Occupational Therapy
Occupational therapists help our residents find ways to perform activities of daily living such as getting dressed, going to the bathroom and brushing teeth. This may involve teaching them how to use various assistance devices or learning a different way of completing these tasks. 
Speech Therapy
Speech therapy is about much more than enhancing communication skills. Speech therapists help residents who have difficulty swallowing, language disorders or cognitive impairments. 
Cardiac Rehabilitation
Cardiac rehabilitation is a medically supervised program that is geared toward helping improve the cardiovascular health of those who have had heart attacks, angioplasties, heart surgery or heart failure. 
All the Services You Need in One Location
We understand the importance of being able to meet all your needs within our community. This is why our goal is to prevent hospital or doctors' office visits as much as possible. We have quality mobile X-rays, an in-house lab, ultrasounds and access to physicians in different specialties such as eye doctors and psychiatrists. In addition, we're able to provide full diagnostics and even provide pic lines.
This means you or your loved one does not have to travel to an ER or another location for acute care. 
We're Ready to Assist You and Those You Love
Rehabilitation is not always easy, and we understand that. This is why our outstanding, world-class team is always there to support you. Want to know more about our rehabilitation services? Contact us today, and we'll be glad to schedule a tour and answer all your questions.